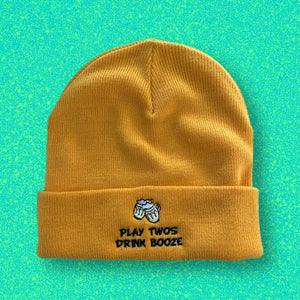 PLAY TWOS DRINK BOOZE: YELLOW KNIT BEANIE
Regular price $27.00 Sale
It's not just a fashion statement - it's a lifestyle statement.
To those who bite their thumb at the ones footy lifestyle, this is for you.
For footballer who'd rather a cold stubby than a protein shake, this is for you.
Players who play for the love of the post-game, rather than love of the game, this is for you.
If you've ever sent a text from the comfort of your own couch at 5:47PM on a Tuesday saying "Can't make training, working late!", this is for you.
For the bald heads, the thick haired heads, to the pin heads or the fat heads - the adjustable chord hat is made to fit all scones.
Each hat is carefully stitched with love and care by the crew at TCD to ensure it looks it's best and takes all you twos warriors from a solid 10 outta 10... To a world standard 11/10.