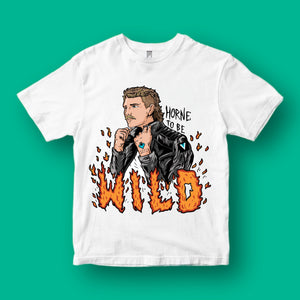 HORNE TO BE WILD: FRONT ONLY
Regular price $26.00 Sale
⚡ Sometimes it's not just a shirt. It's an investment.
🙏🏼 It's the year 2034 and Jason Horne-Francis is leading the AFL's version of the Harlem Globetrotters, Port Power, to their record breaking fifth premiership in a row against their new arch rivals, the Tassie Toads.
⏰ There's ten seconds left in the grand final at a packed MCG, and you see the now world famous JHF fly over a pack and take another mark of the year contender. He's 35m  from the sticks.
👨🏼He walks with his back to the goal, he's never been more confident - and it's because of you, random spectator/Pear fan.
👔 You see, you're wearing your favorite shirt. Your TCD 'Horne To Be Wild' shirt. You've had it on your back for the last four premierships, and it's about to be a fifth. The Hornet knows and backs your t-shirt tradition. He sees you in the crowd and winks, with a quick thumbs up.
👀 He starts his run up, he closes his eyes and kicks it on his opposite boot… the Sherrin sails through the goals. They've done it. YOU'VE done it. History has been made. 🏆
🍐 They've got the Power to win - it was never in doubt!